Account Info
From any page in the LifeOmic Platform, you can click on the logo at the top of the page to access the home screen. The logo and tiles on the home screen will vary depending on the the LifeOmic Platform account and how it is configured, but administrators will always have access to the Account Info tile.
Access Control
A user needs to belong to the default Admin group or have those permissions to access the Account Info tile.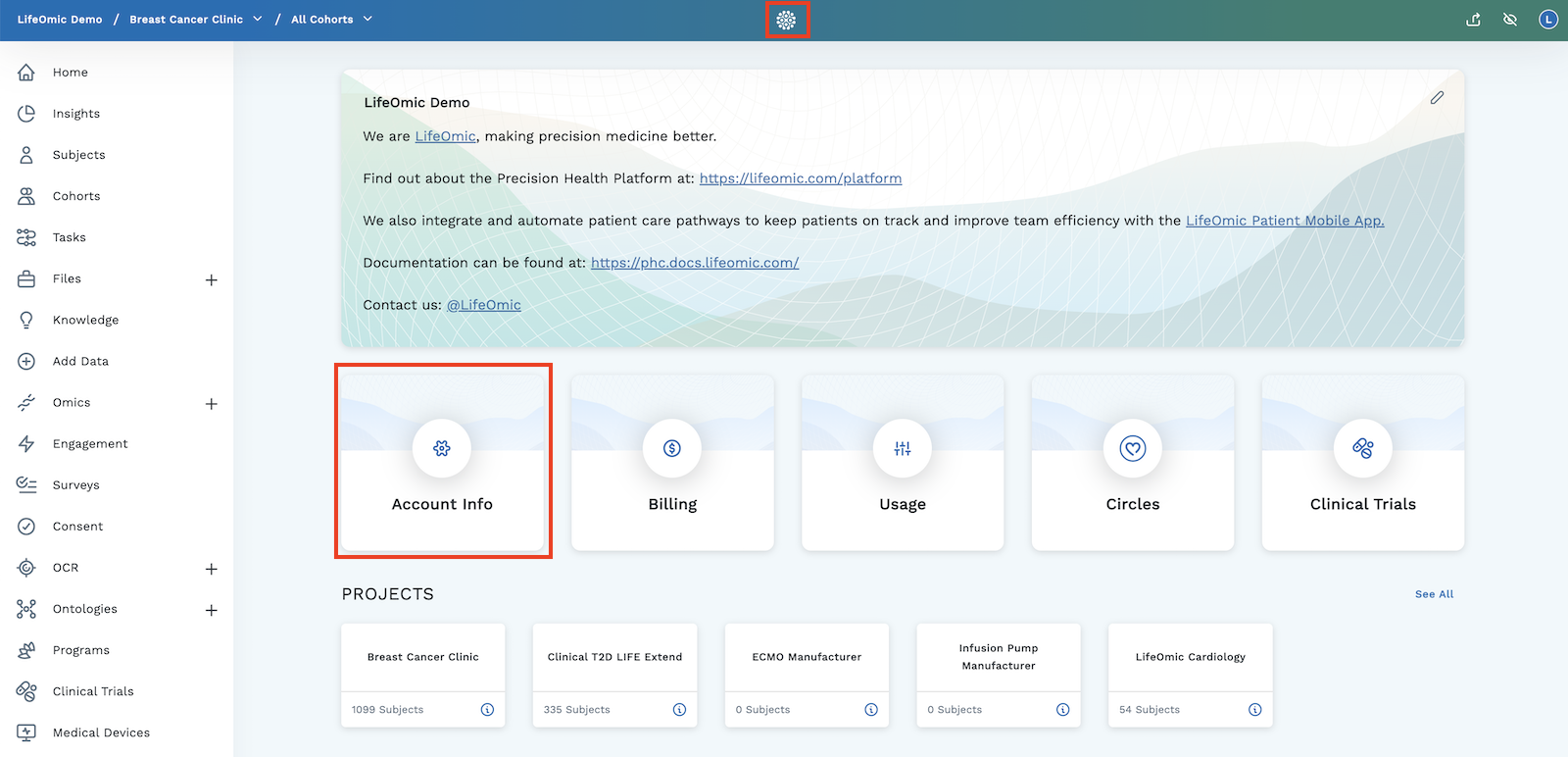 Click on the Account Info tile to open a menu of account options. If you do not see the account options you are looking for, check your permissions or contact your administrator.
Manage Account - View or change the Account ID, Account Name, or Account Owner email address. Add or edit the account logo by uploading an image file.
Features - Toggle features to show and hide the features for all users in the account.
API Keys - Manage and create API Keys.
Billing - View and download invoices, update your payment method, or delete your account.
Auth Client - Configure third-party authentication clients for Single Sign-on (SSO). The Auth Client tab is only available for Enterprise account customers. The tab does not appear at other account levels.
Usage - View platform usage and associated costs. Access any reports that detail project cost breakdown.
Groups - Add users to the LifeOmic Platform by creating a group and adding individuals to a group.
Users - Add a user to a group. View the name, ID, email, and last login of the account's users.
Access Control - Set up access control policies.
EHRs - Add and manage EHRs.
Invitations - View the status of invitations sent inviting those to join the account. Access the details of the invitations, including the email address of the person invited, the inviter, the account, date, and group they were invited to join.
Create Account - Contact LifeOmic to create a new account.
Account Auditing - View a record of the LifeOmic Platform events related to access control and the API.